Had the notion last week to change one of the walls in our lobby and cover it with a material called Phototex.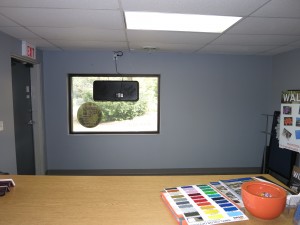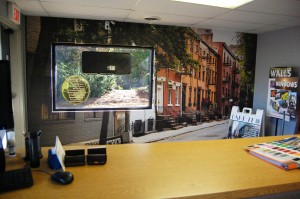 We started carrying this material last year, it has a tacky adhesive backing similar to paint tape. Which means it can go on painted walls and also be removed without damaging the under lying paint or wall. Also makes it really easy to install, because if you don't get it on just right you can easily pick it up and apply it again.
Of course when we first received the material we tested out its durability. We printed a few samples for our own wall to see if the adhesion would wear off at all, we removed prints from where we first applied them to other locations, we 'mistakenly' applied them to see how easy they would be to fix. So far we've had prints up for a year that have never peeled on the edges or shown any decrease in value. We moved one print that had been in the same location for 11 months to another spot without any problems. Any wrinkles or bubbles we've purposefully caused were easy enough to fix, and there has been no damage to the walls or adhesive residue.
Being confident in Phototex, and wanting to make a few changes, we decided to cover one of our lobby walls with the material. I purchased a nice photograph from istockphoto.com and we applied the print in less than 2 hours. I love having the vibrant imagery over another dull gray wall, especially with winter coming, it really gives the lobby a more friendly and artistic atmosphere.